Youthful Reflections: Michael A. Boggess, MD
213 Overlook Circle, Suite B-3
Brentwood, TN 37027
Phone: (615) 942-8016
Monday–Friday: 9 a.m.–4 p.m.

Dr. Michael A. Boggess, MD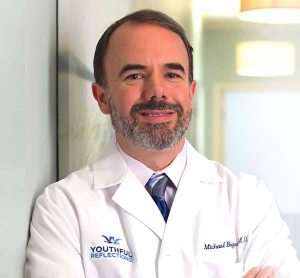 Early in his career, Dr. Michael Boggess decided to focus exclusively on facial plastic surgery so he could provide women and men with unparalleled expertise in facial rejuvenation. Certified by both the American Board of Facial Plastic and Reconstructive Surgery and the American Board of Otolaryngology, Dr. Boggess is known as a top facial plastic surgeon in Brentwood, Franklin, Memphis, and Knoxville, TN, and Huntsville, AL. During his 20-year career, he's performed more than 7,000 facial rejuvenation procedures, including more than 4,000 facelifts.
Education and Training
Dr. Boggess earned his medical degree from the University of Kentucky College of Medicine, where he graduated with honors. He remained at the UK medical school to complete his residency, serving as chief resident in the Department of Otolaryngology-Head & Neck Surgery.
With his background in both plastic surgery and otolaryngology, Dr. Boggess initially began practice as an ear, nose, and throat specialist. But his passion for facial plastic surgery ultimately led to establishing Youthful Reflections, a boutique practice that emphasizes exceptional patient care that you won't find in a high-volume practice.
Facial Plastic Surgery Specialist
Among the top facelift plastic surgeons in Nashville, Tennessee, Dr. Boggess sees patients who travel from throughout the United States and internationally for his signature Reflection Lift. Dr. Boggess also specializes in eyelid surgery, brow lift, and fat transfer procedures.
Dr. Boggess in the News
Mentoring Colleagues
By being at the forefront of the most advanced facial plastic surgery techniques and treatments, Dr. Boggess has lectured physicians from across the country on his approach to facial rejuvenation. He has trained and mentored other facial plastic surgeons interested in providing the type of exceptional, natural-looking results that Dr. Boggess achieves for his patients by pursuing a conservative approach that minimizes risk and a quicker recovery.
Honors & Awards
In a career full of noteworthy accomplishments, Dr. Boggess is most proud of the positive feedback he hears from patients who are thrilled with the results of their facial rejuvenation procedures. That's one of the reasons he volunteers so much time providing advice to people who post questions on RealSelf, a popular website that connects patients with board-certified specialists.
RealSelf Top Contributor
RealSelf 100 & 500 Hall of Fame Inductee (2018)
RealSelf 500 Award (2017)
Castle Connolly Regional Top Doctor (2017, 2018, 2019, 2020, 2021)
America's Most Honored Professionals Top 5% (2019)
EPIC Award, Lifestyle Lift (2013)
Gold Award for Patient Satisfaction, Lifestyle Lift (2009, 2010, 2011,2012, 2013)
These honors are a testament to Dr. Boggess' expertise and his dedication to ensuring his patients are thoroughly informed about the procedures they are considering and have reasonable expectations for the outcomes.
A Reputation Built on Results
Incredible experience - I am absolutely thrilled with my results I am a registered nurse and have been...
I had a great experience with Dr. Michael Boggess. Recovered fast and I am very satisfied with my results.
This was such a great experience from day 1.
Start With a Consultation
The first step in learning about what Dr. Boggess can do for you is scheduling a personal consultation. Dr. Boggess is known for taking whatever time is needed to learn about your concerns and expectations and to recommend the procedure or procedures best suited to produce the desired results. You can request a consultation using the online form or call our office at (615) 942-8016 to schedule an appointment.
RealSelf Patient Reviews of Michael Boggess, MD
Results
Worth Waiting For
We understand you want your facial plastic surgery right away, but this is an instance where patience pays off. Our surgeries are often booked out a few months because Dr. Boggess:
Is highly accomplished, and his services are in demand.

Takes his time to ensure outstanding safety, care, and results.

Offers personalized techniques that aren't available elsewhere.

We are worth the wait.
Learn more about why the best facial plastic surgeons are worth the wait, and how you can make the most of that time in this blog post.
Learn More
Back to Top