Youthful Reflections: Michael A. Boggess, MD
213 Overlook Circle, Suite B-3
Brentwood, TN 37027
Phone: (615) 942-8016
Monday–Friday: 9 a.m.–4 p.m.

Brow Lift
Nashville facial plastic surgeon Dr. Michael Boggess performs eyebrow lift surgery, also called a forehead lift or brow lift, in Brentwood for women and men who believe their sagging brows, wrinkled forehead, and frown lines make them look tired, grumpy, and older than they feel. As a specialist in facial rejuvenation procedures for people from Nashville, Memphis, and Knoxville, TN, and Huntsville, AL, Dr. Boggess has the expertise to use the technique best suited for your specific aesthetic concerns.
How Is a Brow Lift Performed?
The techniques used by Dr. Boggess to perform brow lift surgery vary depending on the patient's facial anatomy, concerns, and expectations. Even though the techniques are different, brow lift surgery always involves using a local anesthetic that is sometimes combined with a light sedative. Dr. Boggess may use one of these techniques to perform your surgery:
Endoscopic brow lift: Also called a minimal incision brow lift because it involves Dr. Boggess making 4 or 5 tiny incisions behind the hairline, rather than a single, more extensive incision. He inserts the thin endoscope through these incisions, which provides a view of the internal tissues that are elevated during a brow lift.
Coronal brow lift: This is considered the traditional brow lift technique. An incision made in the hairline near the ear extends across the top of the head to the other ear. This provides Dr. Boggess access to the underlying tissues and can elevate the entire forehead from above.
Pretrichial brow lift: Using this technique, Dr. Boggess makes an incision right at the hairline or just behind it, which allows him to elevate the brow without elevating the hairline.
Mid-forehead brow lift: In this procedure, an incision is made in an existing forehead crease. Dr. Boggess removes excess skin and lifts the sagging brow by repositioning the underlying muscle and tissue.
Lateral brow lift: This is often called a temporal brow lift and it's less extensive than other techniques. It addresses the outer third of the eyebrows rather than the full brow area, which is the first portion to sag as we age. Dr. Boggess may combine a lateral brow lift with upper blepharoplasty (eyelid surgery).
Browpexy: This conservative brow elevation procedure is typically performed in coordination with an upper blepharoplasty. The technique allows the lateral brow to be lifted through an incision in the natural crease of the upper eyelid using a tacking suture to suspend the lateral brow, thereby avoiding an additional incision in the scalp, hairline, or forehead. This procedure is especially useful in men and women with receding hairlines.
Dr. Boggess determines the approach that will produce the best results after discussing your goals and a careful physical exam conducted during the consultation. Whatever technique is used, a brow lift can help you look more youthful, alert, and rested. Depending on the technique used, brow lift surgery typically takes 30 to 60 minutes.
Can a Brow Lift Be Combined With Other Procedures?
Yes. Dr. Boggess often recommends combining brow lift surgery with other procedures to give patients the rejuvenated results they want. Popular options include:
Some patients benefit from nonsurgical med spa treatments such as laser skin resurfacing to complete their facial rejuventation.
A Reputation Built on Results
Incredible experience - I am absolutely thrilled with my results I am a registered nurse and have been...
I had a great experience with Dr. Michael Boggess. Recovered fast and I am very satisfied with my results.
This was such a great experience from day 1.
What Are the Benefits of an Eyebrow Lift?
Women and men who are good candidates for elective surgery can see dramatic results from brow lift surgery. This is especially true for patients whose sagging brows, forehead wrinkles, and hooded eyelids detract from their overall appearance and vitality.
The benefits of a brow lift may include:
Smoothing out forehead wrinkles
Elevating the brow in a way that looks natural and more youthful
Minimizing the appearance of sagging upper eyelids
Reducing "crow's feet" at the corner of the eyes
Creating an alert, content appearance
When performed by a facial plastic surgery specialist such as Dr. Boggess, a brow lift can change the way people see you even though you'll still look like yourself.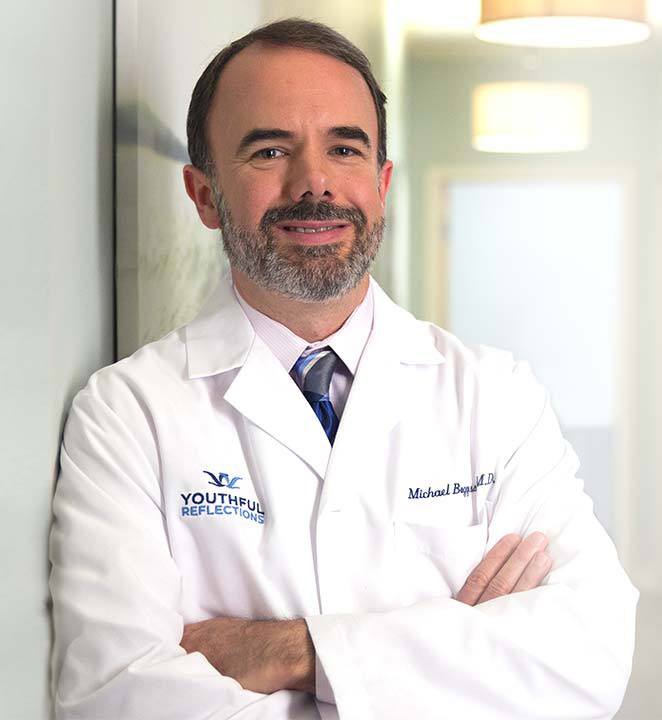 Dr. Boggess
By focusing exclusively on facial procedures, Dr. Boggess provides patients a level of expertise rarely found at other plastic surgery practices in the Southeast. Certified by both the American Board of Facial Plastic & Reconstructive Surgery and the American Board of Otolaryngology, Dr. Boggess combines exceptional technical skill with a down-to-earth demeanor that puts patients at ease from the moment they meet him.
What Can I Expect After a Brow Lift?
As with any surgical procedure, the recovery process following a brow lift is unique for each patient. It also depends on the technique used and if Dr. Boggess combines the brow lift with other surgical or nonsurgical procedures. Still, there are some general guidelines for a brow lift recovery that can help you know what to expect.
A brow lift is performed as outpatient surgery, meaning you'll return home the day of the procedure. You'll need to have someone drive you home and help you around the house during the first several days of the recovery. Bruising and swelling following surgery are normal and typically resolve within 1 to 2 weeks. Applying cold compresses can help minimize the swelling and we provide pre-op instructions that can help avoid severe bruising. You should keep your head elevated for the first 2 or 3 days.
How Long Is Recovery After a Brow Lift?
Most brow lift patients can return to normal activities within a week of the procedure. You should keep in mind, however, that if you're planning to attend a significant social event (such as a wedding or class reunion) you should allow more time for the final results to become apparent.
Dr. Boggess earned his reputation has Nashville's face expert based on his years of producing remarkable results that met and exceeded his patients' expectations. If you're considering a brow lift and live in Brentwood, Franklin, or surrounding areas, request a consultation with Dr. Boggess using the online form or call us at (615) 942-8016 to schedule an appointment.
Brow Lift FAQ
How long does a brow lift last?
Brow lift results last indefinitely, but your skin will continue to age and may cause your brow to sag again over time. How well you protect and care for your skin also affects the longevity of your results. On average, though, you can expect to enjoy your smoother, more youthful-looking forehead for 10 to 15 years before your results start to fade.
Is brow lift surgery painful?
Pain is usually minimal after brow lift surgery, peaking within the first couple of days post-op. Pain medication or acetaminophen usually manages any discomfort. Bruising and swelling are common after the procedure, but they will resolve within a week or two. You may also experience a feeling of tightness in the brow area.
What's the difference between a brow lift and a facelift?
A brow lift smooths and lifts the forehead area, whereas a facelift addresses sagging and aging on the lower two-thirds of the face. Combining the two procedures creates full-face rejuvenation from your hairline to your neck.
Are there nonsurgical alternatives to brow lift surgery?
If you're not quite ready for brow lift surgery, laser skin resurfacing is an excellent nonsurgical option for smoothing fine lines and wrinkles and firming forehead skin.
Does a brow lift lower your hairline?
Some brow lift techniques, such as the petrichial brow lift, can give the appearance of a lower hairline. Many other surgical brow lift techniques do not lower the hairline.
Will I have a noticeable scar?
Depending on the surgical technique used, most brow lift incisions are hidden in the hairline so there are no visible scars. Even when the incisions need to be made in more conspicuous areas, Dr. Boggess takes great care to create well-hidden scars.
Results
Worth Waiting For
We understand you want your facial plastic surgery right away, but this is an instance where patience pays off. Our surgeries are often booked out a few months because Dr. Boggess:
Is highly accomplished, and his services are in demand.

Takes his time to ensure outstanding safety, care, and results.

Offers personalized techniques that aren't available elsewhere.

We are worth the wait.
Learn more about why the best facial plastic surgeons are worth the wait, and how you can make the most of that time in this blog post.
Learn More
Back to Top