Youthful Reflections: Michael A. Boggess, MD
213 Overlook Circle, Suite B-3
Brentwood, TN 37027
Phone: (615) 942-8016
Monday–Friday: 9 a.m.–4 p.m.

Chin Augmentation
The harmony of facial features depends greatly on the chin's appearance. Under-projected chins or chins that appear too small can make a person's nose seem disproportionately large and can create a blunted appearance in relation to the angle of the neck. Double board-certified facial plastic surgeon Dr. Michael Boggess uses implants for chin augmentation at his Nashville, TN, practice to create facial harmony and improve the profile.

How Is Chin Augmentation Performed?
Dr. Boggess augments chins with synthetic implants that can be customized based on each patient's needs. These implants are made of synthetic material that feels much like natural tissue normally found in the chin. He typically performs these procedures using a local anesthetic and light sedation. Once the area is numb, Dr. Boggess either makes incisions inside the mouth where the gum and lower lip meet, or in the natural crease just under the chin. Incisions inside the mouth leave no external scars, but an incision under the chin is barely perceptible.
He then inserts the implants through the incisions and positions it so it creates a natural-looking result. Chin augmentation surgery typically takes about 30 to 45 minutes and most patients are able to return to their normal activities within a week.
Combining Procedures
It's fairly common to combine chin augmentation with other procedures to create a balanced, harmonious appearance. As a facial plastic surgery specialist, Dr. Boggess uses his expertise during the consultation to assess the face as a whole and determine which procedure can produce the best outcome. In many cases, chin augmentation patients can benefit from a neck lift or limited facelift to improve the contour of the neck and jaw.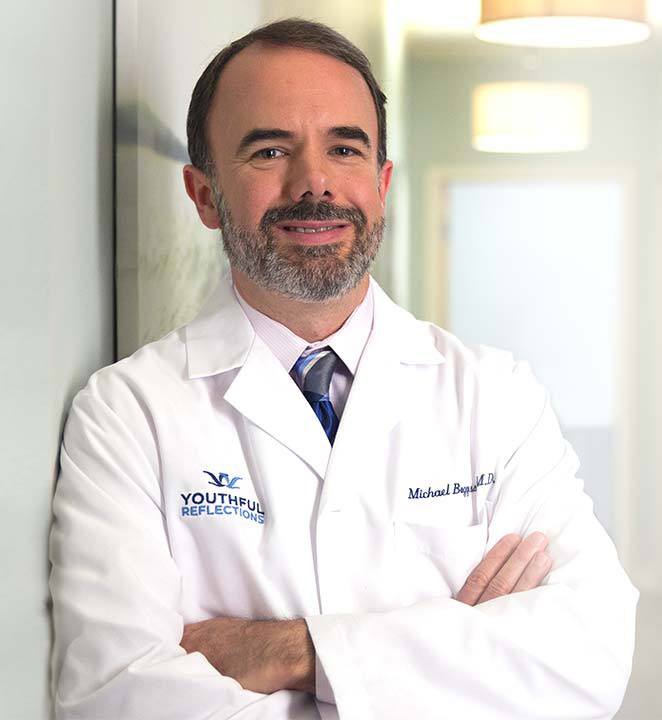 Dr. Boggess
By focusing exclusively on facial procedures, Dr. Boggess provides patients a level of expertise rarely found at other plastic surgery practices in the Southeast. Certified by both the American Board of Facial Plastic & Reconstructive Surgery and the American Board of Otolaryngology, Dr. Boggess combines exceptional technical skill with a down-to-earth demeanor that puts patients at ease from the moment they meet him.
What Happens After Chin Augmentation Surgery?
The recovery following chin augmentation surgery typically lasts about 1 week. You can expect some tenderness and any discomfort you have can be managed effectively with prescription pain medication. You'll need to limit chewing and follow a liquid and soft food diet for a few days. You might also notice a stretched or tight sensation during the first several days, but this is temporary.
Start With a Consultation
The first step in learning about what Dr. Boggess can do for you is scheduling a personal consultation. Dr. Boggess is known for taking whatever time is needed to learn about your concerns and expectations and to recommend the procedure or procedures best suited to produce the desired results. You can request a consultation using the online form or call our office at (615) 942-8016 to schedule an appointment.
Back to Top