Here's a scenario that probably happens more than it should: Someone who's been thinking for months, perhaps years, about getting a facelift schedules consultations at a handful of plastic surgery practices in Nashville. They decide to go with the surgeon who can perform the procedure sooner than anyone else. Unfortunately, sooner is rarely better when it comes to facial plastic surgery.
Even though we live in a society that craves quick service—from Uber rides within minutes to streaming a favorite series in a weekend—waiting weeks or even months for the best facial plastic surgeons is worth the exceptional care and results they provide.
Why Does It Take So Long?
Think of a restaurant whose reputation for excellent service and food requires diners to get reservations well in advance. People are willing to wait because they know other options in the area can't match the experience of the busy restaurant. The same is true when choosing a facial plastic surgeon, except the stakes are much higher when considering surgery.
Safety factors into the equation with cosmetic surgery. The highest quality plastic surgeons have excellent track records for safety and produce quality outcomes.
Which Surgeons Are Worth the Wait? Check Their Qualifications.
Check the experience, training, and education of facial plastic surgeons, and you'll discover a range of backgrounds. Before trusting your face to a surgeon, take time to explore their credentials and evaluate if they measure up to your expectations regarding these guidelines:
Board certification: This is a must. A plastic surgeon certified by both the American Board of Facial Plastic and Reconstructive Surgery and the American Board of Otolaryngology has extensive expert training focused exclusively on the face.
Experience: There is no substitute for experience—it's a cliché, but it's also the truth. Highly respected surgeons who are booked out months in advance will have performed a significant number of procedures during their careers. I've performed more than 7,000 facial rejuvenation procedures, including 4,000-plus facelifts, during my career spanning more than 20 years.
Personalized techniques: The best facial plastic surgeons refine their techniques and customize them to address each patient's needs. I've developed the Reflection Lift at my practice, which recognizes that a facelift alone rarely produces the type of comprehensive, natural-looking results patients want.
Communication skills: Great surgical results begin at the consultation. During the consultation, a surgeon should closely listen as patients describe their concerns and the goals they'd like to achieve, and the surgeon should clearly answer all the patient's questions. Ideally, you sense a rapport with the surgeon and trust that you can confide in them.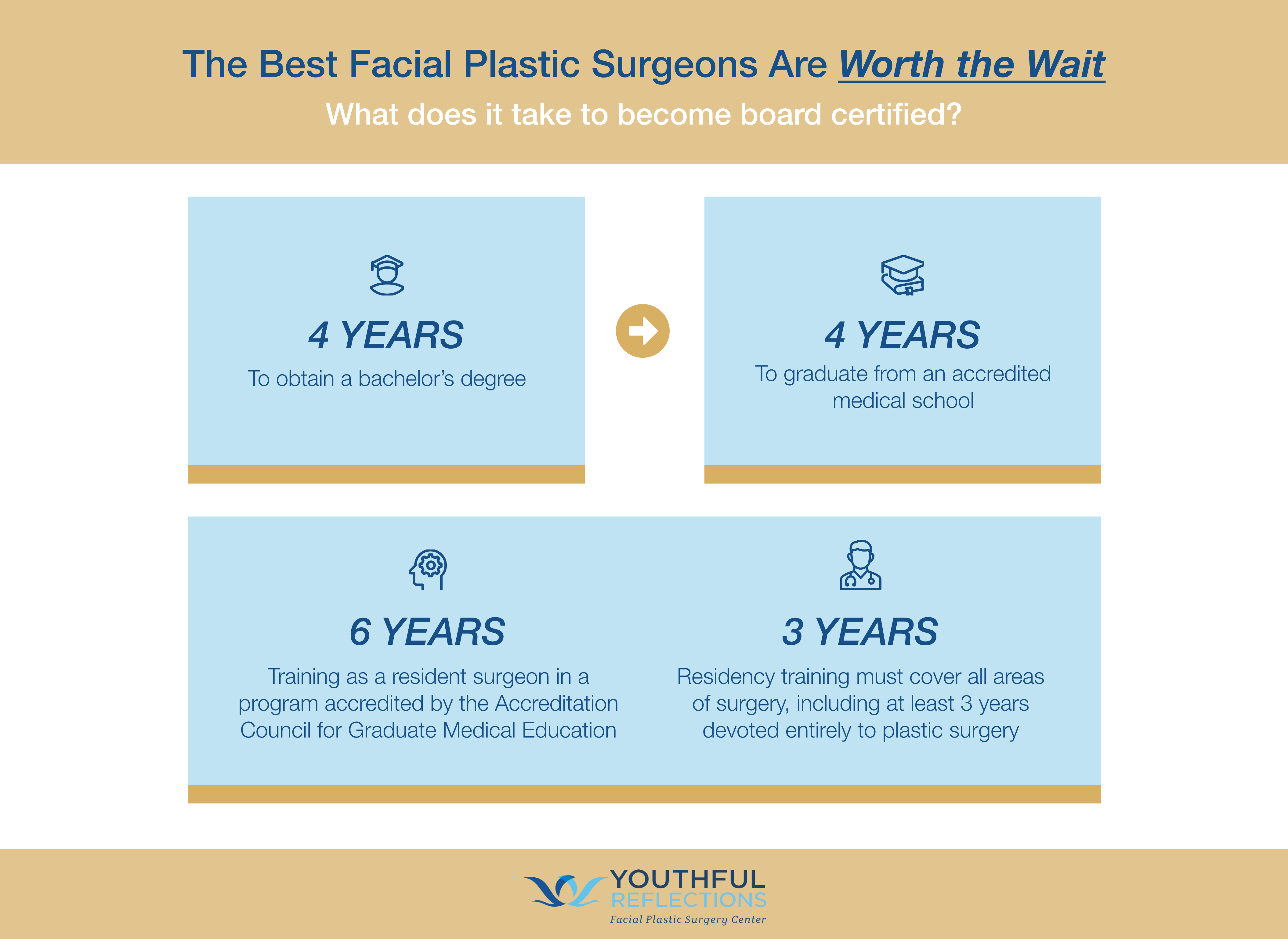 Take Advantage of the Wait
After choosing the right surgeon for you—even though the first opening on their surgery schedule is weeks away—use the time to focus on some healthy habits. These may include:
Follow an exercise routine: Being in good physical shape when you undergo surgery will help you bounce back even faster. Facial cosmetic surgery will help you look more youthful, and being physically fit will help you feel that way, too.
Enhance your skin's health: Following a daily skincare routine that includes moisturizing and avoiding excessive sun exposure can help improve the condition of your skin before your surgery. We offer skinbetter science® and ZO® Skin Health products that include nourishing serums and creams to reduce wrinkling and increase the skin's firmness.
Consume a nutritious diet: Healthy eating habits help you heal faster. Add more dark green, leafy vegetables and fruits to your diet and avoid processed foods that are high in sodium. You'll also need to stop taking some supplements before and after surgery for a brief period.
Quit smoking: You'll have to quit smoking before surgery to reduce risks both during and after the procedure. This is an excellent opportunity to stop smoking for good.
Get in Touch Now
If you're looking for a facial plastic surgeon in the Nashville, TN, area, use the online form to request a consultation with Dr. Boggess or call our office at (615) 942-8016 to schedule an appointment.