Youthful Reflections: Michael A. Boggess, MD
213 Overlook Circle, Suite B-3
Brentwood, TN 37027
Phone: (615) 942-8016
Monday–Friday: 9 a.m.–4 p.m.

Laser Skin Resurfacing
In Nashville, men and women come to Youthful Reflections for laser skin resurfacing treatments to address a range of aesthetic concerns. Sun damage, age-related volume loss, wrinkles, acne scars, and brown spots can all cause facial skin to appear coarse and aged. For more than 20 years, women and men from Brentwood, Memphis, Murfreesboro, Franklin, and Knoxville, TN, as well as Huntsville, AL, and throughout the Southeast have relied on Dr. Michael Boggess to create natural-looking results that exceed their expectations.
Who Can Benefit From Laser Skin Resurfacing?
The versatility of laser skin resurfacing is one of the reasons it's such a popular med spa treatment. When performed by a skilled and experienced provider, laser treatments are safe and effective for patients of most skin types. The conditions treated using fractional CO2 lasers include:
Fine wrinkles
Age spots
Uneven skin tone or texture
Sun damage
Mild to moderate acne scars
Even though specific results vary because every patient has their own unique circumstances, virtually all patients see a notable improvement in the appearance of their skin.
How Does Laser Skin Resurfacing Work?
Dr. Boggess uses a fractional carbon dioxide (CO2) laser for skin resurfacing patients. This laser penetrates the skin with pulses of laser beams that create pinpoint injuries, rather than damaging the entire surface of the skin. Controlled injuries stimulate the growth of new, healthy skin cells that replace damaged cells. This turnover of cells produces collagen, an essential element of smooth, youthful-looking skin.
What Happens During Laser Skin Resurfacing?
Fractional CO2 laser resurfacing can be performed using local anesthesia with light sedation and typically takes approximately 20 to 30 minutes.
What Can I Expect After Laser Skin Resurfacing?
You can expect to see some light crusting of the skin for 2 to 3 days, followed by some mild to moderate redness of the skin, similar to a sunburn. This usually lasts 1 to 3 weeks, depending on the individual and the laser settings used. Most people can return to normal activities in 3 to 5 days and makeup can be used to camouflage any residual redness after the first week.
A Reputation Built on Results
Incredible experience - I am absolutely thrilled with my results I am a registered nurse and have been...
I had a great experience with Dr. Michael Boggess. Recovered fast and I am very satisfied with my results.
This was such a great experience from day 1.
How Much Does Laser Skin Resurfacing Cost?
The cost of laser skin resurfacing treatments varies depending on the extent of the procedures and size of the treatment areas. Our goal at Youthful Reflections is to provide access to cosmetic procedures to as many people as we can, which is why we offer a range of financing options for qualified patients.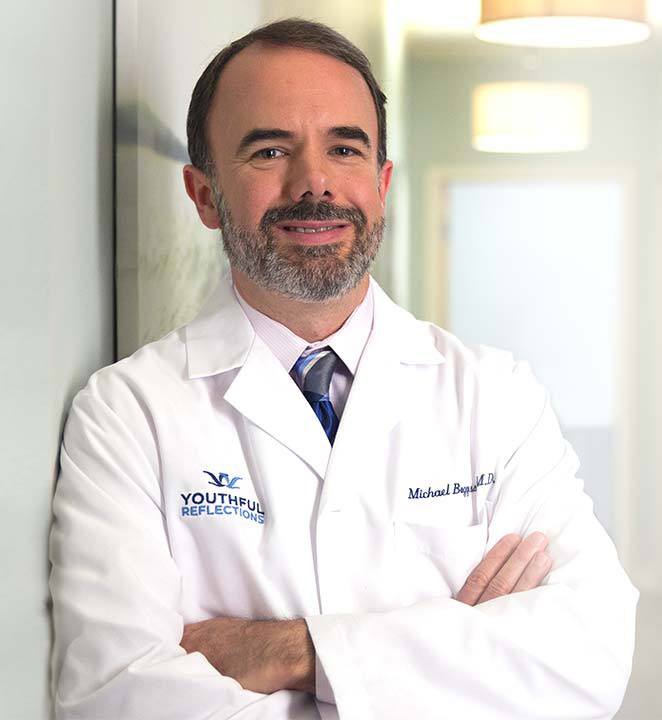 Dr. Boggess
By focusing exclusively on facial procedures, Dr. Boggess provides patients a level of expertise rarely found at other plastic surgery practices in the Southeast. Certified by both the American Board of Facial Plastic & Reconstructive Surgery and the American Board of Otolaryngology, Dr. Boggess combines exceptional technical skill with a down-to-earth demeanor that puts patients at ease from the moment they meet him.
Combining Procedures
Many of our patients considering facial plastic surgery can also benefit from laser skin resurfacing. Dr. Boggess takes a comprehensive approach to facial rejuvenation and often combines laser skin resurfacing with his signature Reflection Lift, eyelid surgery, or a brow lift. He discusses these options in detail during your consultation.
Start With a Consultation
The first step in learning about what Dr. Boggess can do for you is scheduling a personal consultation. Dr. Boggess is known for taking whatever time is needed to learn about your concerns and expectations and to recommend the procedure or procedures best suited to produce the desired results. You can request a consultation using the online form or call our office at (615) 942-8016 to schedule an appointment.
Results
Worth Waiting For
We understand you want your facial plastic surgery right away, but this is an instance where patience pays off. Our surgeries are often booked out a few months because Dr. Boggess:
Is highly accomplished, and his services are in demand.

Takes his time to ensure outstanding safety, care, and results.

Offers personalized techniques that aren't available elsewhere.

We are worth the wait.
Learn more about why the best facial plastic surgeons are worth the wait, and how you can make the most of that time in this blog post.
Learn More
Back to Top