Youthful Reflections: Michael A. Boggess, MD
213 Overlook Circle, Suite B-3
Brentwood, TN 37027
Phone: (615) 942-8016
Monday–Friday: 9 a.m.–4 p.m.

Facial Fat Transfer
Facial plastic surgery specialists such as Dr. Michael Boggess recognize that the loss of volume in the face is a key element of the aging process. It's the reason why dermal fillers such as JUVÉDERM® products are among the most popular cosmetic treatments available today. For patients who want a natural alternative to fillers, fat transfer treatments at our Nashville, TN, practice are an excellent option.
How Is Fat Transfer Performed?
The process of removing unwanted fat from one area of your body and using it as a facial filler—which is also called fat grafting—involves 3 steps.
First, Dr. Boggess uses liposuction to harvest fat from the lower abdomen or thighs.
Second, the fatty tissue is spun in a centrifuge to purify the fat.
Third, Dr. Boggess uses a specialized cannula (similar to a syringe) to carefully re-inject the fat in the facial treatment areas.
Dr. Boggess performs autologous fat grafting—using a patient's own fat for cosmetic purposes—using a local anesthetic with light sedation, with the procedure typically taking about an hour.
Who Can Benefit From Fat Transfer?
Facial aging involves multiple factors. The loss of collagen leads to lax skin, wrinkles develop because of sun exposure and a lifetime of squinting, smiling, and other muscle movements. We also see a progressive loss of fat and bone volume in the face that results in the skin in the midface and lower face drooping. Cheeks flatten out, nasolabial folds become deeper, and marionette lines (extending from the corners of the mouth to the chin) develop.
Treatments such as microneedling can stimulate new collagen production and BOTOX® injections can smooth crow's feet and worry lines, but fillers are needed to replace lost volume. Synthetic fillers such as JUVÉDERM are effective but using your own fat can actually provide a longer-lasting result that's equally effective. What's even more remarkable is that these fat grafts contain regenerative cells that can rejuvenate and repair skin cells, so fat grafts have the ability to create healthy, youthful, glowing skin from the inside out.
Combining Procedures
Women and men with early signs of aging can benefit from a number of nonsurgical treatments to rejuvenate their appearance. Dr. Boggess evaluates each patient during the consultation and offers a customized treatment plan that addresses the concerns described by the patient. Someone who needs fillers, for example, may also benefit from BOTOX injections or laser skin resurfacing. Combining procedures provides comprehensive results in a cost-effective way that patients appreciate.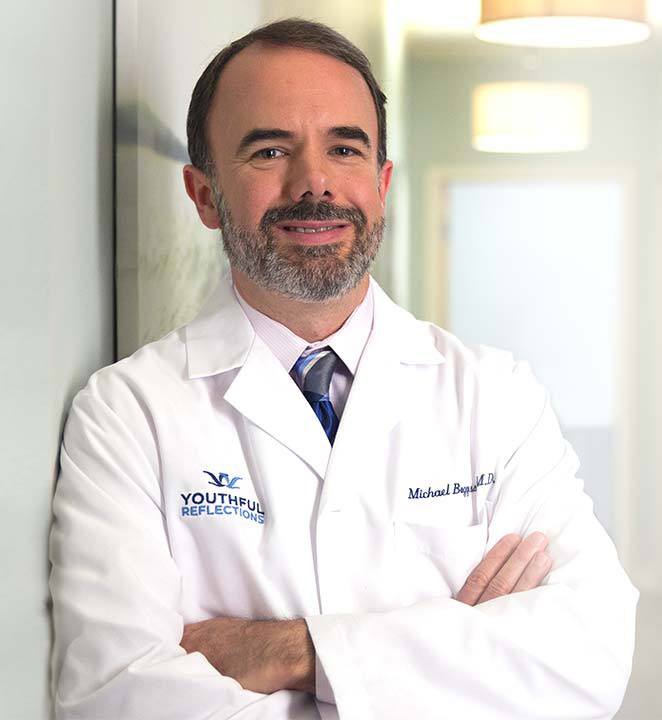 Dr. Boggess
By focusing exclusively on facial procedures, Dr. Boggess provides patients a level of expertise rarely found at other plastic surgery practices in the Southeast. Certified by both the American Board of Facial Plastic & Reconstructive Surgery and the American Board of Otolaryngology, Dr. Boggess combines exceptional technical skill with a down-to-earth demeanor that puts patients at ease from the moment they meet him.
What Happens After a Fat Transfer Treatment?
The recovery after a fat transfer procedure involves minimal discomfort. The liposuction site will have some bruising and swelling that typically resolves within 1 to 2 weeks. You can also expect some bruising around the injection sites. Most patients return to their normal daily activities within a week. We provide detailed post-op instructions that patients should follow closely.
Start With a Consultation
The first step in learning about what Dr. Boggess can do for you is scheduling a personal consultation. Dr. Boggess is known for taking whatever time is needed to learn about your concerns and expectations and to recommend the procedure or procedures best suited to produce the desired results. You can request a consultation using the online form or call our office at (615) 942-8016 to schedule an appointment.
Back to Top