Youthful Reflections: Michael A. Boggess, MD
213 Overlook Circle, Suite B-3
Brentwood, TN 37027
Phone: (615) 942-8016
Monday–Friday: 9 a.m.–4 p.m.

Eyelid Surgery
The eye area is one of the first to show signs of aging. Droopy skin, puffy bags, and hooded eyelids can make you appear tired, old, sad, or angry even though you feel rested and youthful. Upper and lower blepharoplasty, often called eyelid surgery, in Nashville boosts your self-esteem with minimal downtime. Dr. Michael Boggess is a double board-certified facial plastic surgeon whose reputation for creating natural-looking blepharoplasty results attracts men and women to his practice from Brentwood, Memphis, and Knoxville, TN; Huntsville, AL; and throughout the Tennessee Valley and beyond. He uses minimally invasive techniques that produce dramatic results with little evidence of surgery.

What Is Blepharoplasty?
Blepharoplasty is a surgical procedure that removes sagging excess skin and fat from the upper eyelids, lower eyelids, or both. In some cases, the procedure is performed to tighten upper eyelids that are so lax they obstruct peripheral vision. For others, it's a cosmetic upper or lower eyelid procedure to help the eyes appear more open, alert, and refreshed.
Who's a Candidate for Eyelid Surgery?
Women and men are good candidates for eyelid surgery if they want to restore a natural, more youthful appearance to the eye area. This procedure addresses a variety of concerns, including:
Upper and lower eyelid skin that sags and droops due to lack of elasticity.
Upper eyelid skin that hangs over the upper eyelid and lashes and obstructs vision.
Protruding fat around the eyes that obscures the natural upper eyelid crease and creates puffy, undereye bags.
What Type of Anesthesia Is Used for Eyelid Surgery?
Dr. Boggess performs eyelid surgery using local anesthesia with, or without, light sedation, avoiding the risks, costs, and side effects related to general anesthesia.
How Is Upper Eyelid Surgery Performed?
Dr. Boggess performs upper eyelid surgery as an office-based procedure in approximately 30 minutes. Through incisions placed in the natural eyelid crease, he removes sagging skin, muscle, and protruding fat. He closes the incisions with fine sutures that are removed in about 5 to 7 days. After recovery, the scarring is virtually invisible.
How Is Lower Eyelid Surgery Performed?
Dr. Boggess performs lower eyelid surgery as an office procedure. It typically takes 45 minutes to complete. He can perform this surgery through an incision on the inside of the eyelid if fat removal is all that is needed. He can use an incision on the outside of the eyelid just below the lash line if skin and muscle excision are needed. During the surgery, he removes excess skin, muscle, and protruding fat from the lower eyelids.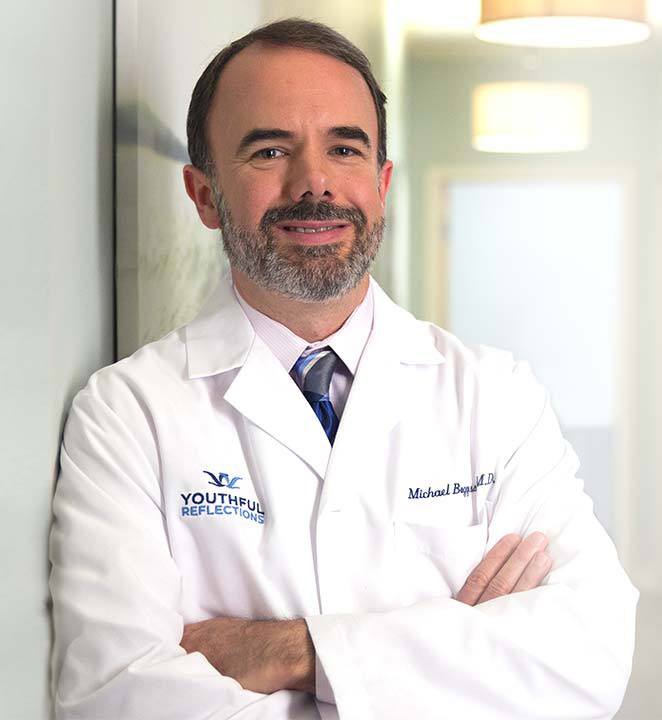 Dr. Boggess
By focusing exclusively on facial procedures, Dr. Boggess provides patients a level of expertise rarely found at other plastic surgery practices in the Southeast. Certified by both the American Board of Facial Plastic & Reconstructive Surgery and the American Board of Otolaryngology, Dr. Boggess combines exceptional technical skill with a down-to-earth demeanor that puts patients at ease from the moment they meet him.
Is the Surgery Painful?
Patients are often surprised by how little discomfort they experience after eyelid surgery; many don't take any pain medication. You will be provided with a prescription if you have any concerns about pain.
Eyelid Surgery Recovery
You can expect some bruising, swelling, and tightness that typically resolve within 1 to 2 weeks after blepharoplasty. Some people may also experience blurred vision, itching, watery eyes, or light sensitivity the first few days after surgery. Overall, discomfort during recovery is minimal but will peak about 4 hours after your upper eyelid procedure, according to a study published in the Annals of Plastic Surgery.
Most people can return to work and normal activities within 1 week after blepharoplasty. Although you may begin to see your results as soon as your swelling gradually diminishes, it may take 4 to 6 weeks to see your final results.
Does Eyelid Surgery Remove Wrinkles?
Eyelid surgery tightens lax skin and removes visible pockets of fat for a refreshed, more youthful look. It does not remove wrinkles around the eyes, such as crow's feet and frown lines between the eyebrows. Dr. Boggess can combine eyelid surgery with a nonsurgical procedure to smooth away lines and wrinkles.
Combining Eyelid Surgery With Other Procedures
Many patients considering other facial plastic surgery procedures can benefit from eyelid surgery performed at the same time. For example, Dr. Boggess may recommend combining his signature Reflection Lift with eyelid surgery and laser skin resurfacing for comprehensive results that look natural. A procedure that addresses only a single aesthetic concern may draw attention to the aging of another facial feature.
A Reputation Built on Results
Incredible experience - I am absolutely thrilled with my results I am a registered nurse and have been...
I had a great experience with Dr. Michael Boggess. Recovered fast and I am very satisfied with my results.
This was such a great experience from day 1.
Eyelid Surgery FAQ
Can I wear contacts after the surgery?
Because your eyelids will initially be swollen and your incisions will be healing, you should wear glasses instead of contacts for about 2 to 3 weeks. Taking this precaution will minimize fatigue from heavy eyelids and the chance of infection.
Is there a way to significantly improve droopy eyelids without surgery?
The eyelids droop because the skin has thinned and lost elasticity, tissues of the forehead have descended, or both. Regardless, surgical intervention such as blepharoplasty or a brow lift is necessary to open up the eye area.
Will I have scars from eyelid surgery?
Eyelid surgery usually does not leave noticeable scars. The upper eyelid scars are hidden in the natural crease of the upper eyelids, and lower eyelid scars are either within the lower eyelids or concealed along the lower lash line.
Are blepharoplasty results forever?
Results from upper eyelid surgery typically last 5 to 7 years. Some patients eventually have a touch-up procedure, while others are satisfied with their rejuvenation for a lifetime. In most cases, lower eyelid surgery results last indefinitely without the need for subsequent surgery. To extend the life of your results, minimize sun exposure and avoid smoking.
Is eyelid surgery worth it?
The vast majority of people who have blepharoplasty report that their results are well worth the effort. Nearly 95% of the people who've had eyelid surgery and reviewed the procedure on RealSelf.com say their blepharoplasty was "worth it."
What's the best age for a blepharoplasty?
Choosing when to have eyelid surgery is a personal decision. Men and women in their 20s or 30s may decide to have the procedure because their eyelids have an inherited or natural predisposition to sag or bulge. Others in their 40s, 50s, and beyond may notice that age and other factors have caused their upper eyelids to droop or lower eyelids to develop hollows or bags as they grow older. There is no ideal age to have blepharoplasty; the best age to have the surgery is when you feel it's time to address droopy or baggy eyelids.
Start With a Consultation
The first step in learning about what Dr. Boggess can do for you is scheduling a personal consultation. Dr. Boggess is known for taking whatever time is needed to learn about your concerns and expectations and recommend the procedure best suited to produce the desired results. You can request a consultation using the online form or call our office at (615) 942-8016 to schedule an appointment.
Results
Worth Waiting For
We understand you want your facial plastic surgery right away, but this is an instance where patience pays off. Our surgeries are often booked out a few months because Dr. Boggess:
Is highly accomplished, and his services are in demand.

Takes his time to ensure outstanding safety, care, and results.

Offers personalized techniques that aren't available elsewhere.

We are worth the wait.
Learn more about why the best facial plastic surgeons are worth the wait, and how you can make the most of that time in this blog post.
Learn More
Back to Top