Looking at the before-and-after photos in our gallery might give you the impression that a facelift can produce some remarkable results. That's certainly true, but it's important to know that the majority of our facelift patients in Nashville, TN, combine other procedures with a facelift.
The Benefits of Combining Procedures
You may have heard the analogy that compares facial plastic surgery with remodeling your home. It's actually quite accurate. Imagine you're ready to modernize an outdated kitchen and decide to hire a contractor. He replaces dull countertops with granite, installs gorgeous tile flooring, and upgrades all the appliances.
The results are stunning. Then you look at the dining room. Did it always look this rundown?
A facelift only addresses the lower portion of the face—primarily jowls and sagging cheeks. The procedure doesn't improve the brow or areas around the mouth and eyes. Because all areas of the face tend to age somewhat uniformly, getting a facelift may draw attention to a sagging brow, loose neck skin, or uneven and discolored skin texture.
Choosing to have multiple procedures performed during a single operation offers additional benefits. It minimizes recovery time and is cost-effective because certain fees are only charged a single time.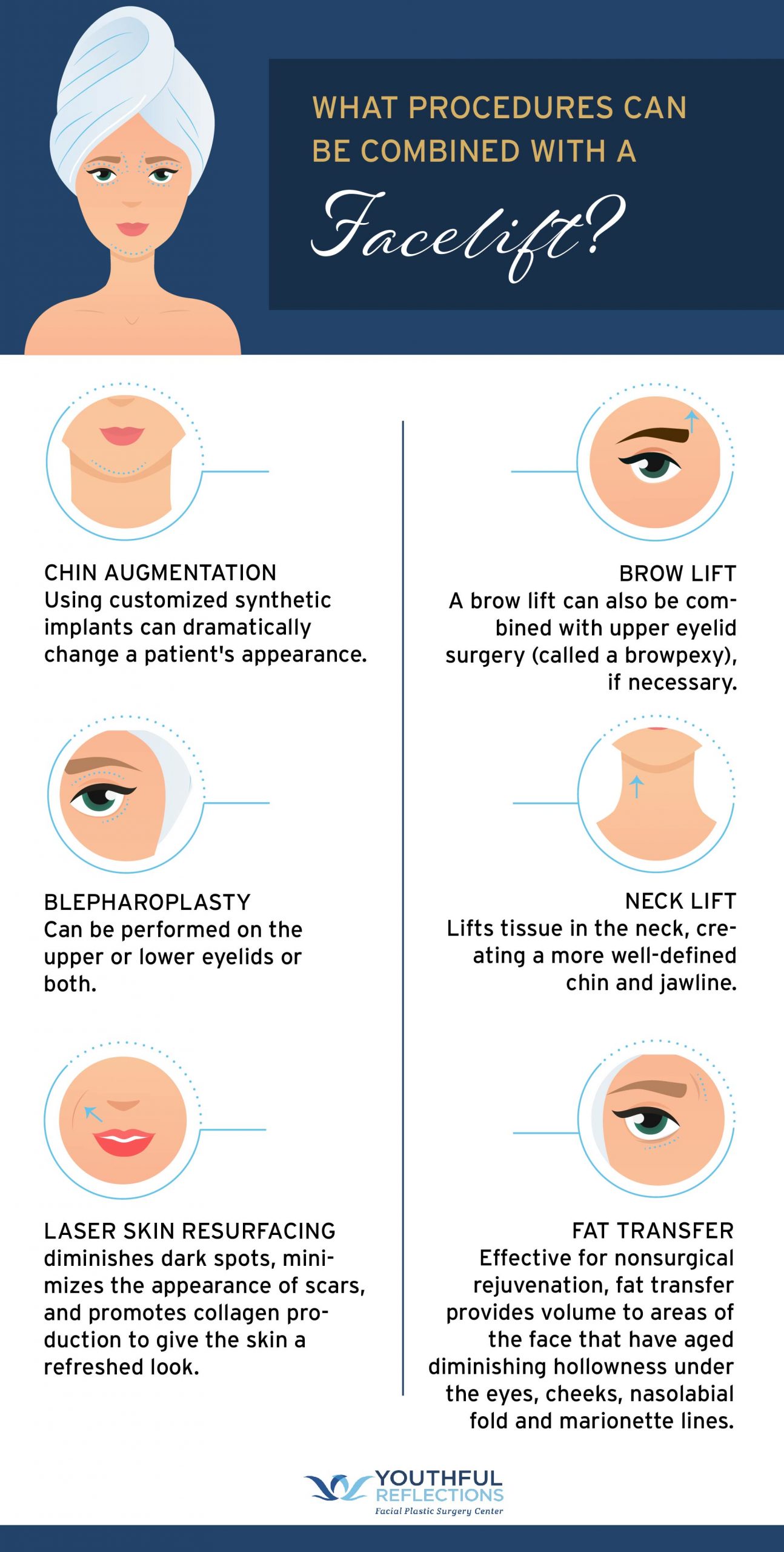 What Procedures Can Be Combined With a Facelift?
One of the reasons it's so important to choose a plastic surgeon specializing in facial plastic surgery is to have someone with the expertise to know which procedures can address your specific needs and the skill to produce excellent results.
The one-on-one consultation I have with patients establishes the foundation for creating those types of results. A consultation involves an honest conversation about the patient's expectations and what bothers them about their appearance. Patients who come in for a facelift consultation, for example, and say they want the area around their eyes to look more rested aren't going to be happy without combining eyelid surgery with their facelifts.
A physical exam to gauge the quality and elasticity of a patient's skin is also a crucial component of the consultation. People with years of sun damage may not be thrilled if their skin retains its rough texture after surgery.
With that in mind, here are 6 procedures that can enhance the results of a Reflection Lift at our practice:
Also called eyelid surgery, blepharoplasty can be performed on the upper or lower eyelids or both. Many of the patients I see in Nashville who want a facelift also have puffiness under the eyes or sagging upper eyelids that create a tired, older appearance.
This 50-year-old woman had both upper and lower eyelid surgery, in addition to a Level 3 Reflection Lift and fat transfer procedures.
Sagging brows can cause women and men to look grumpy or tired. As a facial plastic surgery expert, I use different techniques depending on the patient's specific needs. For example, an endoscopic brow lift involves
minimal incisions well-hidden in the hairline, while a lateral brow lift is less extensive than other options. A brow lift can also be combined with upper eyelid surgery (called a browpexy), if necessary.
Combining a browpexy and lower eyelid surgery elevated the brow of this 48-year-old patient, improved the hooded appearance of the upper eyelids, and minimized the bags under his eyes.
Neck lift
Necks frequently show signs of aging earlier than other areas of the face, so a neck lift is usually part of the Reflection Lift technique I developed. The procedure typically involves lifting tissue and the platysma muscle in the neck, creating a more well-defined chin and jawline. In some cases, neck liposuction can produce a sculpted look by removing excess neck fat.
The dramatic change to the appearance of this 64-year-old patient's neck is clear in these before-and-after Reflection Lift photos.
Even though a facelift can improve the skin's appearance on the chin, it won't change the bone structure. A recessed chin is a fairly common concern, and chin augmentation using customized synthetic implants can dramatically change a patient's appearance.
Chin augmentation created a beautiful profile for this 53-year-old patient, who also had a Reflection Lift and laser skin resurfacing.
A facelift focuses on the tissue and muscle below the skin but doesn't do anything about the skin's appearance. CO2 laser skin resurfacing diminishes dark spots, minimizes the appearance of scars, and promotes collagen production to give the skin a refreshed look that appears natural when combined with a facelift.
The benefits of laser skin resurfacing are nicely demonstrated in these photos featuring a 47-year-old patient who also underwent a facelift and lower blepharoplasty.
Patients often think of cosmetic injectables such as BOTOX® Cosmetic and dermal fillers as treatments you get before needing surgery. But they can be very effective for nonsurgical rejuvenation, diminishing shadows under the eyes, minimizing crow's feet or worry lines, and addressing other common aging concerns. I offer fat transfer as a natural alternative to fillers to create a more youthful appearance under the eyes, on the cheeks, and in other areas where age-related volume loss is common.
Fat transfer combined with a Reflection Lift and laser skin resurfacing resulted in a remarkable transformation for this 52-year-old patient.
Get In Touch
As you can see, most patients who want a facelift can benefit by combining it with other procedures. I'm happy to discuss your concerns and facelift options at our practice in Brentwood, TN, on the south side of Nashville.
It's important to choose the best facial plastic surgeon in Nashville, TN, for you. A consultation gives you the opportunity to ensure you feel comfortable with the surgeon so that you're confident on the day of surgery. You can contact us using the online form to request a consultation or call us at (615) 942-8016 to schedule an appointment.