What does it mean to take a customized approach to facelift surgery? As a double board-certified facial plastic surgeon, I developed my signature Reflection Lift to meet the needs I identify in my detailed examination of a patient's facial anatomy, skin elasticity, and texture. This customized full face rejuvenation treatment plan often involves multiple procedures during facelift surgery at my Nashville practice.
The overall results go well beyond what could be accomplished by a facelift alone. That's because a facelift only addresses the lower portion of the face—primarily jowls and sagging cheeks. Areas around the mouth, eyes, and brow aren't improved during a standalone facelift. Because all areas of the face tend to age somewhat uniformly, getting a facelift may draw attention to a sagging brow, loose neck skin, or uneven and discolored skin texture.
Benefits of a Reflection Lift
What sets the Reflection Lift apart from other facelift techniques, however, is more than just incorporating other procedures into the surgery. Additionally, a Reflection Lift:
Uses light sedation and local anesthesia, which eliminates the risks and cost of general anesthesia. Some patients opt for a general anesthetic at an additional cost.
Is performed in an office-based setting.
Leads to a faster recovery than traditional facelift procedures because of the conservative approach I use, which also minimizes the risks of complications.
Results in patients showing no visible signs of surgery within 1 to 2 weeks of their procedures.
The conservative approach, especially when combined with other procedures as part of a Reflection Lift, produces results that look natural and creates an overall improvement.
Reflection Lift Results
Before-and-after photos demonstrate the benefits of a Reflection Lift. In addition to lifting sagging tissues and reducing the appearance of wrinkles, combining procedures such as laser skin resurfacing, brow lift, or eyelid surgery can also restore facial symmetry and improve the skin's complexion.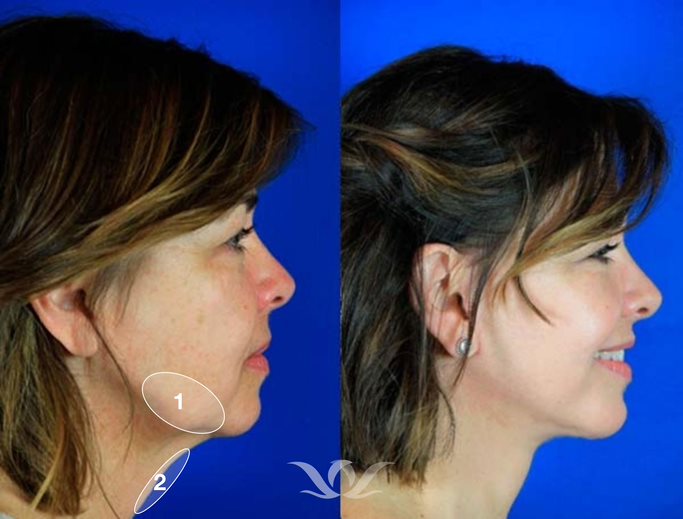 Dr. Boggess performed a Level 3 Reflection Lift for this 52-year-old patient, using liposuction to reduce jowls (1) and remove fat from the neck, in addition to tightening the platysmal muscle in the neck (2). The procedure resulted in a more attractive neck and jawline contour and softening of the marionette lines (smile lines).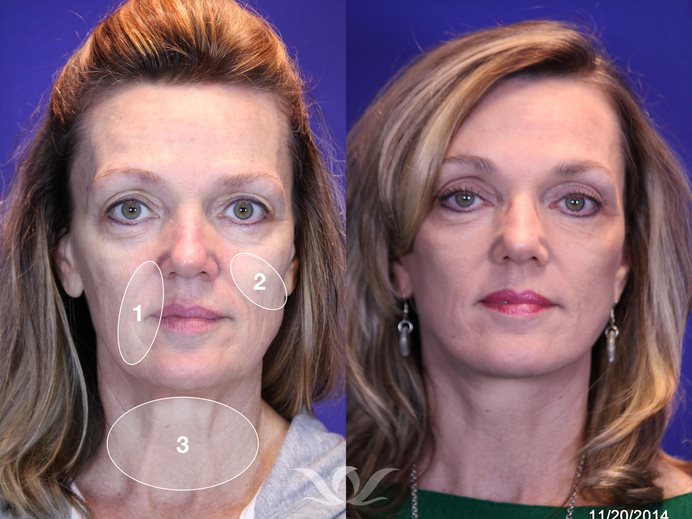 This 55-year-old woman had a Reflection Lift that included a facelift that softened nasolabial folds and marionette lines around her mouth (1). Dr. Boggess also performed laser skin resurfacing (2) to address sun damage and a neck lift (3) to reduce platysmal banding and tighten the neck skin.
Dr. Boggess performed a brow lift (1), upper eyelid surgery (2), and laser skin resurfacing (3), in addition to improving the appearance of this patient's neck (4) and jowls with a Level 3 Reflection Lift.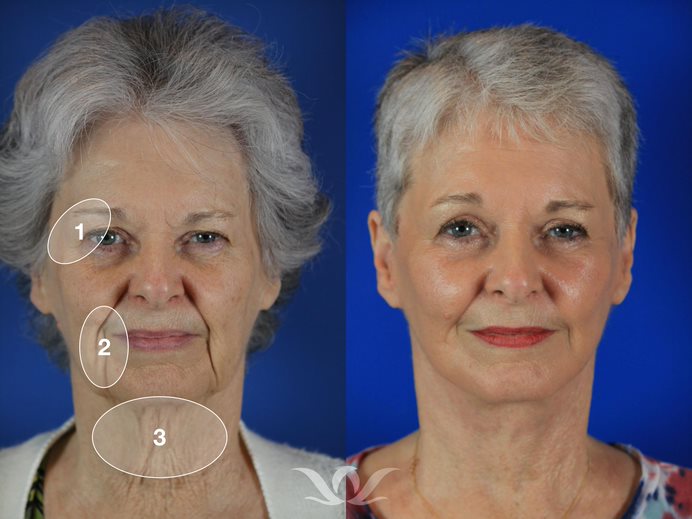 Dr. Boggess created a customized treatment plan that resulted in a remarkable transformation for this 66-year-old patient. A browpexy and upper blepharoplasty (1) created a more youthful, alert appearance around the eyes. The Reflection Lift also minimized significant marionette lines (2) that framed the mouth and elevated and tightened sagging neck skin (3). Dr. Boggess also included fat transfer and laser skin resurfacing as part of the procedure. (You can learn more about the areas of the face that benefit most from fat transfer in our related blog post.)
Start With a Consultation
As you can see, customized facelift surgery often involves much more than a facelift. During my one-on-one consultation with you, I set the foundation for creating those types of results. This is a time when you and I engage in an honest conversation about your concerns about your appearance and your expectations. After a thorough physical examination, I can then recommend an approach that I believe will help you achieve your goals.
A consultation also gives you the opportunity to ensure you feel comfortable with me so that you're confident on the day of surgery. You can contact us using the online form to request a consultation or call us at (615) 942-8016 to schedule an appointment.