Wanting a well-defined chin is a common goal for many men and women. After all, a recessed or "weak" chin often detracts from an attractive face. In many cases, the patients concerned about the appearance of their chin also want to know if a chin implant can improve the look of the jawline.
The answer is evident when you look at these chin implant before and after photos featuring one of my patients (who also underwent a Reflection Lift as part of the procedure.).
As you can see, chin implants add definition to the jawline and the neck. The procedure also can eliminate the appearance of a double chin that is caused by a small chin bone rather than fat accumulating under the chin.
How Is Chin Augmentation Performed?
During chin augmentation surgery, I make a small incision either below the chin or in the mouth at the junction of the gums and lower lip. I use a local anesthetic and light sedation to keep patients comfortable during the procedure.
I then insert the implant—which is customized to fit the patient's overall facial structure—placing it around the chin bone. The synthetic implants feel and look like natural bone and create a balanced look with other facial features.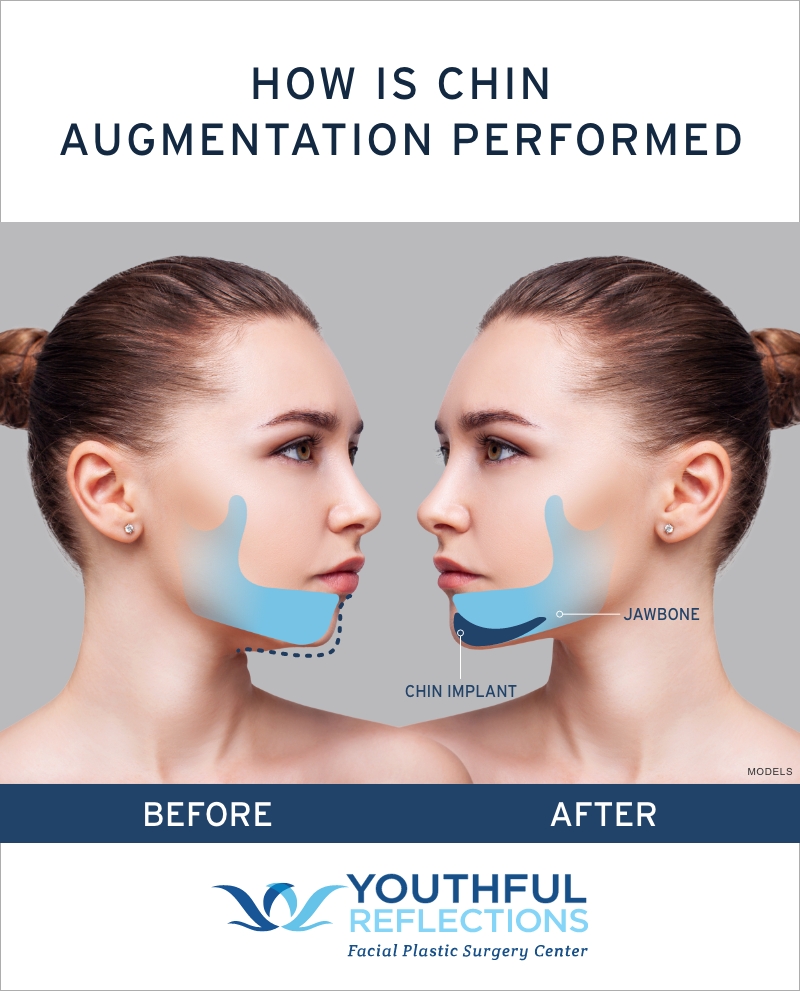 Can You Benefit From a Chin Implant?
Chin augmentation is a great option for women and men who want to:
Improve facial harmony by bringing the chin into better proportion with other features
Correct a weak or recessed chin
Improve the definition of the neck and jawline
Reduce the appearance of a full or "double" chin caused by a small chin bone
You can learn more facts and benefits of chin augmentation in our related blog post.
If you feel like your face is out of proportion due to the shape of your chin and want to learn more about chin augmentation with implants at my Nashville facial plastic surgery practice, request a consultation using the online form or call my office at (615) 942-8016 to schedule an appointment.