Even though fat transfer on its own can be an effective treatment for appropriate patients, most facial plastic surgeons now recognize the benefit of combining fat grafting with facelift surgery to improve volume. In fact, I often combine the fat grafting technique with facelift surgery in Nashville, TN, as part of my signature Reflection Lift.
As a board-certified facial plastic surgeon and facial rejuvenation expert, I've dedicated my career to being at the forefront of emerging techniques, including fat transfer. Also called autologous fat grafting because it uses the patient's own fat, the procedure is widely used in body contouring procedures in addition to facial rejuvenation.
A 2015 study published in Plastic and Reconstructive Surgery®, the official medical journal of the American Society of Plastic Surgeons (ASPS), showed that 85 percent of the 309 plastic surgeons surveyed said they use fat grafting during facelift procedures.
What Is Fat Transfer?
The fat grafting technique typically involves a 3-step process. First, the surgeon uses liposuction to extract a patient's fat, often from the abdominal area, buttocks, or thighs. The fatty tissue is then spun in a specialized centrifuge to separate the fat from impurities. The last step involves strategically re-injecting the fat. When performed as part of a facelift, the fat is usually injected to add volume to sunken cheeks.
Fat Transfer vs. Fillers
Many patients seeking to regain a more youthful appearance aren't necessarily candidates for facelift surgery. Nonsurgical treatments, including fat transfer, create impressive results for these patients. When used as a standalone treatment, fat grafts counteract age-related volume loss in the cheeks, below the lower eyelids, and in the nasolabial folds between the nose and the corners of the mouth. We can also use fat transfer for lip augmentation. Fillers can also accomplish these goals, but some patients are more comfortable using their own fat for facial rejuvenation.
Fat Transfer as Part of a Reflection Lift
When I consult with facelift patients, I consider their entire appearance and not just the areas in the lower part of the face addressed by a facelift. This approach, which I call a Reflection Lift, often includes other surgical and nonsurgical procedures to create balanced, comprehensive results. These procedures may include eyelid surgery, laser skin resurfacing, or a brow lift.
I also often recommend fat transfer as part of the Reflection Lift. In these before-and-after photos featuring some of my actual patients, you can see how combining fat transfer with facelift surgery produces remarkable results.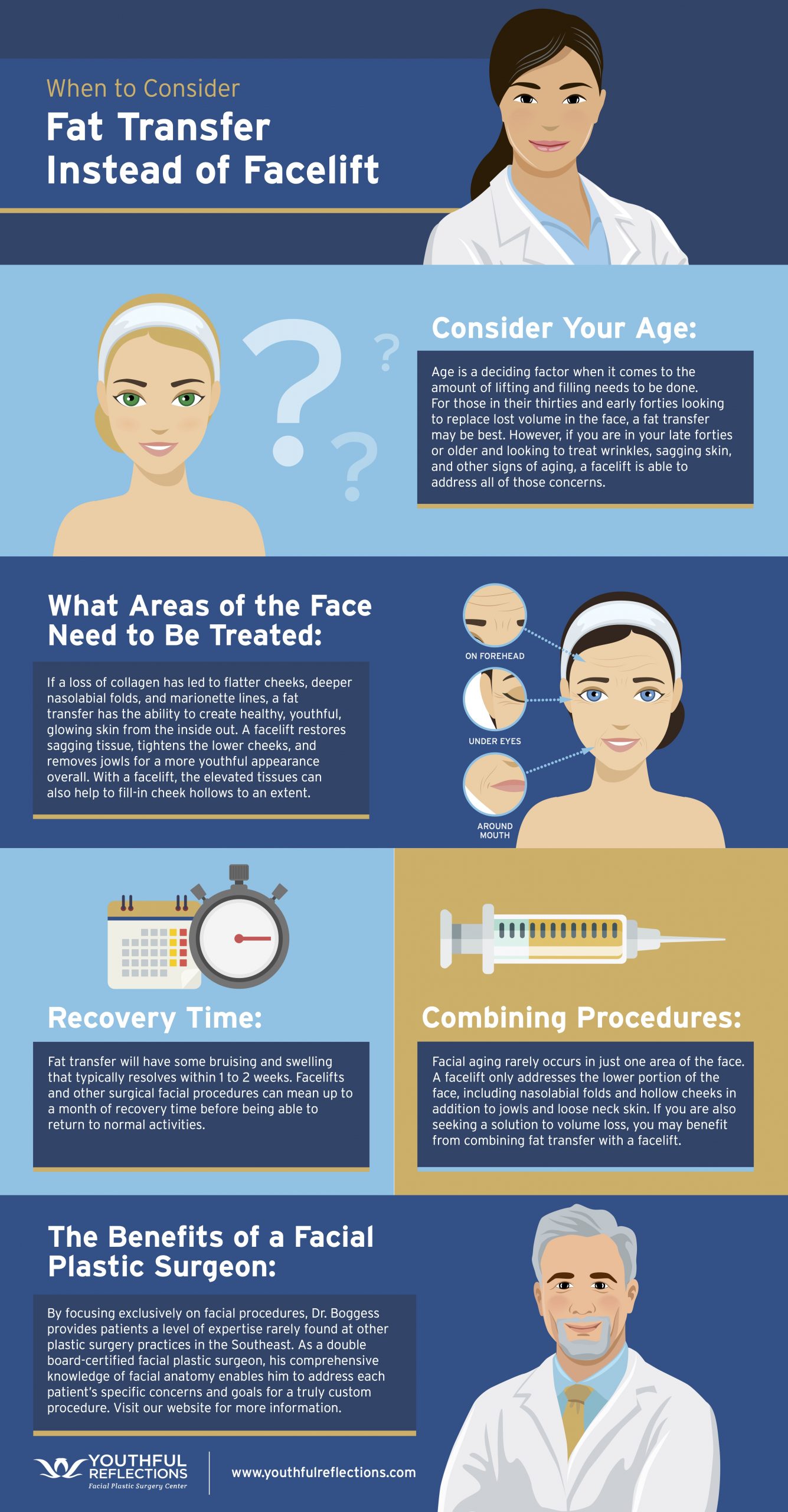 If you have more questions about the Reflection Lift and want to discuss your options with a facial plastic surgeon here in Nashville, request a consultation using the online form. Or call our practice at (615) 942-8016 to schedule an appointment.