Youthful Reflections: Michael A. Boggess, MD
213 Overlook Circle, Suite B-3
Brentwood, TN 37027
Phone: (615) 942-8016
Monday–Friday: 9 a.m.–5 p.m.

BOTOX® Cosmetic
Nashville, TN, loves BOTOX just as much as the rest of the world; it's the go-to procedure for reducing crow's feet, worry lines, and forehead wrinkles. At Youthful Reflections, Dr. Michael Boggess and Heather Barbee, our aesthetic nurse injector, have more than 40 combined years of experience performing cosmetic injections. They create excellent natural-looking results that help restore a more youthful and refreshed appearance.
How Does BOTOX Work?
Many people assume BOTOX and dermal fillers are the same. Even though both treatments reduce lines and wrinkles, the way they produce those results differs significantly. BOTOX works by blocking nerve signals at the injection sites, preventing the muscle movements that cause certain types of wrinkles to form. These dynamic wrinkles are related to repeated facial movements such as squinting, smiling, frowning, or appearing surprised—specifically crow's feet, worry lines, and forehead wrinkles.
Fillers such as JUVÉDERM® products, on the other hand, work by filling in lines and wrinkles with a soft, often hyaluronic acid-based gel that feels like natural tissue. Both products offer temporary (although quite long-lasting) results and don't typically require any downtime.
Does BOTOX Prevent Wrinkles?
An increasing number of younger patients are getting BOTOX injections before developing dynamic wrinkles. Because BOTOX blocks the nerve signals that trigger facial muscle movements responsible for the formation of certain wrinkles, injections can also delay the onset of these wrinkles.
Combining Procedures
BOTOX works well on its own, but many patients choose to combine other treatments with BOTOX injections to create comprehensive results. Combining fillers with BOTOX is very common because they each address different types of wrinkles. Some patients may get a Level 1 Reflection Lift to address jowling or loose neck skin and BOTOX for moderate forehead wrinkles or crow's feet. Dr. Boggess customizes each patient's treatment plan to suit their specific needs.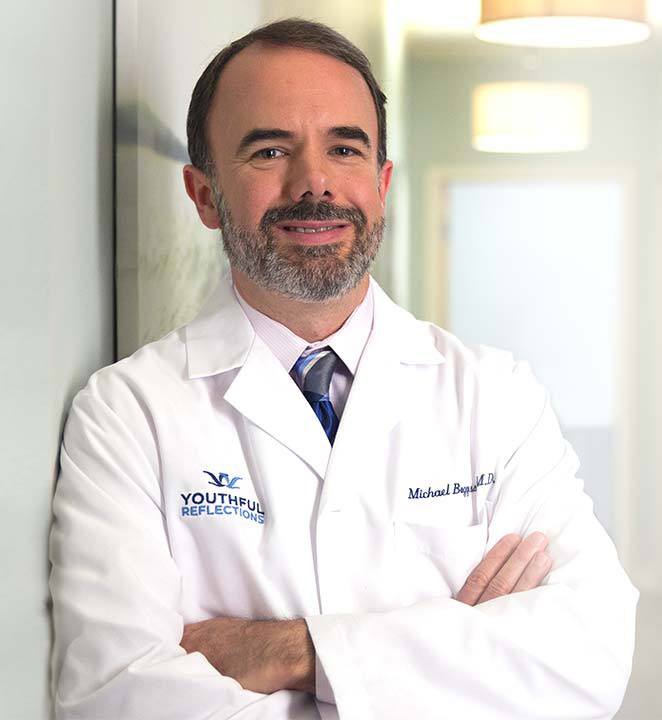 Dr. Boggess
By focusing exclusively on facial procedures, Dr. Boggess provides patients a level of expertise rarely found at other plastic surgery practices in the Southeast. Certified by both the American Board of Facial Plastic & Reconstructive Surgery and the American Board of Otolaryngology, Dr. Boggess combines exceptional technical skill with a down-to-earth demeanor that puts patients at ease from the moment they meet him.
What Happens After BOTOX Treatments?
Patients usually experience some mild swelling and redness at the injection sites immediately after getting BOTOX injections, but you can return to work or resume your normal activities after leaving our office. The time it takes to see the results of BOTOX injections varies from patient to patient, but typically you should notice changes 7 days following the treatment. We encourage patients to contact us if they have questions or concerns about the outcomes. Results usually last up to 4 months. You can schedule touchup treatments before that to maintain the results.
Start With a Consultation
The first step in learning about what Dr. Boggess can do for you is scheduling a personal consultation. Dr. Boggess is known for taking whatever time is needed to learn about your concerns and expectations and to recommend the procedure or procedures best suited to produce the desired results. You can request a consultation using the online form or call our office at (615) 942-8016 to schedule an appointment.
Back to Top