Youthful Reflections: Michael A. Boggess, MD
213 Overlook Circle, Suite B-3
Brentwood, TN 37027
Phone: (615) 942-8016
Monday–Friday: 9 a.m.–4 p.m.

Dermal Fillers
Visible signs of facial aging occur for a number of reasons. Environmental factors, including sun damage, are some of the main culprits, along with the skin losing hydration. Another crucial reason is the loss of collagen and elastin in the skin's deeper layers that results in volume loss. Bone and fat also break down as we age, causing facial contours to flatten and skin to sag. We offer JUVÉDERM® dermal fillers and lip injections to restore lost facial volume; create smoother, more youthful-looking skin; and add fullness and definition to the lips for our patients from Brentwood, Nashville, Memphis, and Knoxville, TN, and Huntsville, AL.
Why Does Volume Matter?
Skin appears smooth when the volume is evenly distributed, creating the high cheekbones, full lips, and well-defined jawline we associate with a youthful appearance. The inverted triangular shape and structure are widely considered the most attractive. When our skin loses volume, our faces tend to look older. The changes include:
Fullness and laxity in the lower face (jowls)
Sagging skin resulting in less defined facial contours
Flatter cheeks
The corners of the mouth point downwards
Hollowness of under-eye area and temples
Not only does this lead to an aged appearance, but these features can communicate that you're tired, sad, or angry, even when that's not true.
What Do Dermal Fillers Treat?
Fillers such as JUVÉDERM are made with a substance called hyaluronic acid, which occurs naturally in the body. These smooth gel fillers help hydrate and add natural-looking volume to the structures supporting the facial skin when injected just beneath the skin's surface. JUVÉDERM fillers can treat:
Nasolabial folds
Marionette lines
Lip or smokers' lines
Lost volume in the cheeks, lips, temples, and elsewhere
The results are seen almost immediately after the treatment sessions.
What's the Difference Between BOTOX® Cosmetic and Fillers
Because both BOTOX and fillers reduce wrinkles, many patients believe they're essentially the same. Even though they are both anti-wrinkle treatments, that's about all they have in common. As noted, fillers treat the volume loss that causes folds and wrinkles to develop. BOTOX, on the other hand, is a neurotoxin that when injected in extremely small doses disables the tiny facial muscles that result in lines and wrinkles such as crow's feet and worry lines.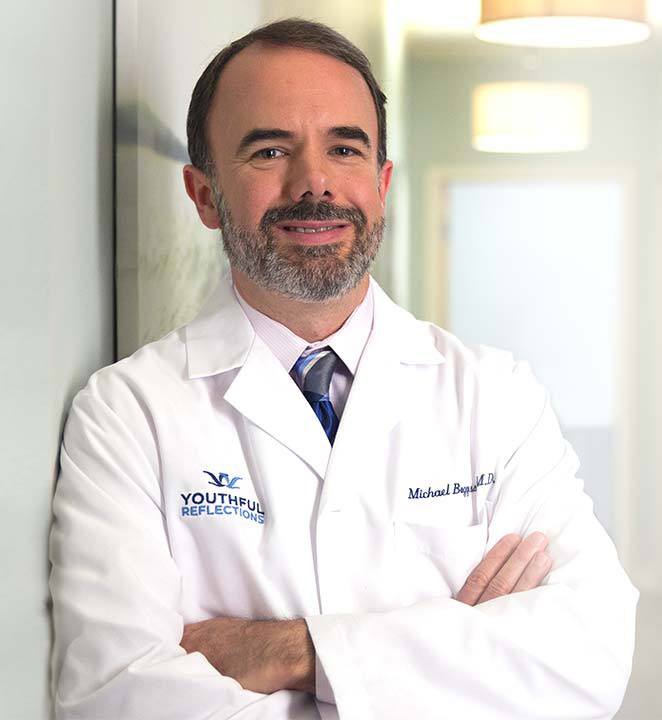 Dr. Boggess
By focusing exclusively on facial procedures, Dr. Boggess provides patients a level of expertise rarely found at other plastic surgery practices in the Southeast. Certified by both the American Board of Facial Plastic & Reconstructive Surgery and the American Board of Otolaryngology, Dr. Boggess combines exceptional technical skill with a down-to-earth demeanor that puts patients at ease from the moment they meet him.
Dermal Filler Options
It wasn't too long ago that a single filler product was used for multiple areas of the face. Now, however, JUVÉDERM and other fillers are formulated with specific uses in mind, enabling injectors to customize treatments based on the specific needs of each patient. All fillers include a local anesthetic to help minimize discomfort during the injections. At Youthful Reflections, we offer the following fillers from the JUVÉDERM family:
JUVEDERM® XC
While serums and creams can help moisturize the skin's surface, JUVÉDERM XC adds volume to smooth lines and folds to help give you the natural-looking, long-lasting results you want. JUVÉDERM XC is proven to last 1 year in wrinkles and folds.

JUVEDERM® ULTRA XC
Whether you've noticed your lips thinning over time or simply want fuller lips, JUVÉDERM® Ultra XC lip injections at our Nashville, TN, practice can give you natural-looking results that last. JUVÉDERM Ultra XC is clinically proven to last up to 1 year in the lips. When treated again after up to 1 year, patients needed less product to achieve their desired results.
JUVEDERM VOLUMA® XC
Wrinkles and lines aren't the only signs of aging. Over time, the cheeks flatten, and the skin may begin to sag. This is caused by a natural loss of volume in the cheek area, or what the experts call age-related midface volume loss. JUVÉDERM VOLUMA® XC is designed to add volume beneath the skin's surface to lift and contour the cheek area. VOLUMA is proven to last up to 2 years when injected in the cheek area.
JUVÉDERM VOLBELLA® XC
JUVÉDERM VOLBELLA® XC is a crystal-clear gel that is injected directly into and around the lips using an ultrafine needle to temporarily plump the lips for lip enhancement and to smooth the appearance of lines around the mouth in adults over the age of 21.
JUVÉDERM VOLLURE™ XC
JUVÉDERM VOLLURE™ XC softens moderate to severe parentheses lines and wrinkles by adding volume to the lines and wrinkles around your nose and mouth to produce subtle and long-lasting results for up to 18 months.

Start With a Consultation
The first step in learning about what Dr. Boggess can do for you is scheduling a personal consultation. Dr. Boggess is known for taking whatever time is needed to learn about your concerns and expectations and to recommend the procedure or procedures best suited to produce the desired results. You can request a consultation using the online form or call our office at (615) 942-8016 to schedule an appointment.
Results
Worth Waiting For
We understand you want your facial plastic surgery right away, but this is an instance where patience pays off. Our surgeries are often booked out a few months because Dr. Boggess:
Is highly accomplished, and his services are in demand.

Takes his time to ensure outstanding safety, care, and results.

Offers personalized techniques that aren't available elsewhere.

We are worth the wait.
Learn more about why the best facial plastic surgeons are worth the wait, and how you can make the most of that time in this blog post.
Learn More
Back to Top